Online Food ordering website that offers customers a platform to search and pick takeaways or for ordering meal for delivery from variety of restaurants has become extremely successful business enterprise. Adding online food ordering facility increase your sales as well as brand awareness among customers. We have vast experience in developing solutions for online food ordering industry.
We offer customized Food Portal Development Solutions for takeaways and restaurants. Through our food portal development, you customer handling process becomes much easier.
We initially identify the potential market for the clients and create plenty of layout designs on what kind of news the portal cover. By integrating comprehensive Content Management System (CMS) into website, it enables quick loading with rich customized modules like breaking news section, top stories, photo gallery, videos, advanced search options etc. to increase usability and provide more features.
Online Food Ordering Solutions
The idea behind Online Food Portal has became a big hit and now well entrenched in the market as more and more companies move towards this trend. We delivers Online Food Ordering Solutions for your restaurants. We built a fully automated website for online food portal development solutions that enables you to order their meal online.
Food ordering industry's demand is increasing each and every day. In digital world, everything going to become online, and the scope of Online Food Portal becomes more successful. Restaurant owners want their business of food become global. We have designed online ordering takeaway portal development solutions that can stand up in competition.
Mobile food ordering and food delivering market is registering a reasonable growth each day and is poised to achieve more and more. We are here to help you to be a part of this growth with our team of highly skilled and professional mobile application developers by providing you a custom Food Delivery Mobile Application for your business.
User Registration
User Login
User password reset
Order Food Instant
Order By Cities
Order By Cuisines
Order By Popular Restraunts
Special Offers
Quick Search
Recommend A Friend
Featured Package
News Letter
Payment Gateway Integration
Admin Control Panel and Deposit Account Maintenance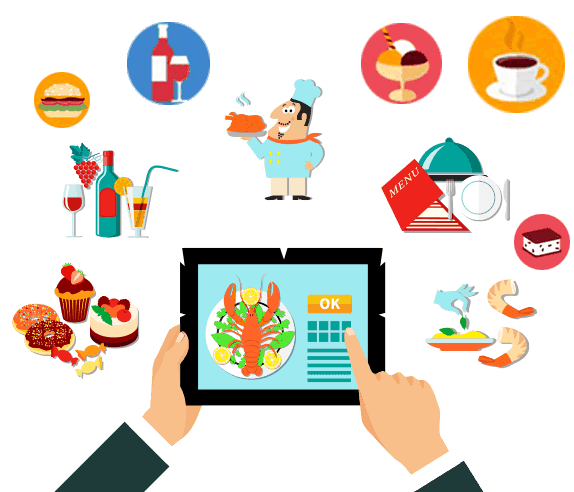 Administration Secured Login
Sub Admin Creation
Middle Tie-Up Option
Full CMS (Content Management System) to manage restaurants.
My Booking : (Clients/Agents can view their booking status, cancel, take a print)
Add Fund : (Our Application offers facility to add fund to the Sub Agent's Account)
Customer Management
Featured Packages
Banner Ads
New Letters
Booking Management
Domain Name
Shared Web Hosting For 1 Year
Email ID
Unique Custom Web Design
User and SEO Friendly Web Pages